Front Loaded Air to Coil Conversion Kit Strut Pair Fits 07-11 Chevy Avalanche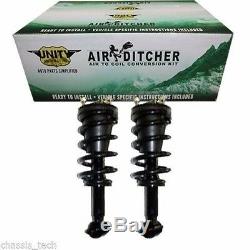 Air Ditcher Front Coil Springs Conversion Kit by Unity®. Includes: Front Left and Front Right Complete Strut Assemblies.
Unity offers conversion kit that allow you to replace costly and worn air suspension springs and other components that are no longer reliable. This conversion kit provides a softer, more comfortable ride which progresses to a firmer ride as load demands increase.
Low Cost Alternative to Air Suspension and Electronic Suspension. No Sacrifice of Ride Height or Quality. Regain the New Car Feel. Improve Consistency of Carry Load. Reduce Your Vehicle Down Time.
While air suspension systems offer numerous benefits, they consist of complex designs with a variety of added parts that can wear out and fail. The system may show early warning signs of a problem such as vehicle ride height dropping overnight, or it may catastrophically fail leaving your vehicle resting so low against bump stops that it cannot be driven.
Whether your vehicle is sagging evenly or in just one corner, youre facing a high cost for parts and labor to replace what has failed. Whether or not you can afford such repairs at the time they happen, the unfortunate truth is air suspension problems cannot be postponed or ignored.
The rubber air bags, or air bellows, within air springs typically fail over time due to wet rot, old age, or excessive moisture buildup from within. Debris and rocks from the road can puncture air bags, and air lines can leak due to improper rubbing against chassis or suspension components. Once theres a leak, air compressors can burn out from overwork trying to maintain pressure in a leaky system. The dryer unit that removes moisture from within the system can become saturated and ineffective, leading to corrosion of parts from within.
The average air suspension system may last 3 to 5 years before needing repairs of some kind. And within 7 to 10 years, most vehicles so equipped end up needing replacements for virtually every part in the system. This can cost thousands of dollars, and the labor to diagnose any electrical problems more complex than simple part failure isnt cheap either. If youre fed up with the costs of air suspension repairs or are facing your first one, Air Ditcher Coil Conversion Springs Kits let you remove your vehicles air springs and deactivate the rest of the system converting it to the simplicity and maintenance-free nature of traditional metal coil springs and shock absorbers.
The coil springs and shock absorbers in the kit are created specifically for your make and model, and they are designed to bolt on right to the existing mounting points that your air springs formerly used. While you may lose some of the adaptability air suspension systems provide, Unitys coil springs feature a variable spring rate that provides a softer, more comfortable ride that progresses to a firmer one under load all completely without the help of complex electronics, motors, and pressurized air parts. Based on the design of your vehicle, your kit will include the applicable rubber components needed. V8 GAS OHV Naturally Aspirated.
V8 FLEX OHV Naturally Aspirated. 4.8L / 5.3L. Examples would be destinations like the Virgin Islands and Guam. The item "Front Loaded Air to Coil Conversion Kit Strut Pair Fits 07-11 Chevy Avalanche" is in sale since Wednesday, July 10, 2019.
This item is in the category "eBay Motors\Parts & Accessories\Car & Truck Parts\Suspension & Steering\Shocks & Struts". The seller is "carcoverkingdom" and is located in Boynton Beach, Florida. This item can be shipped to United States.
Brand: Unity
Manufacturer Part Number: 61590CA
Warranty: Lifetime