2003-2006 Mercedes-Benz SL500 4 Wheel Hydraulic Suspension Conversion Kit With L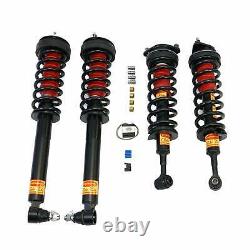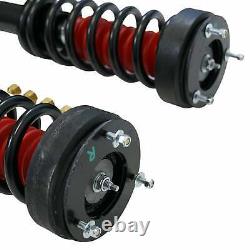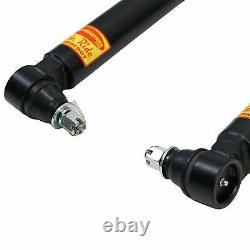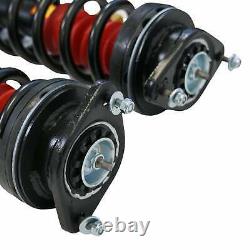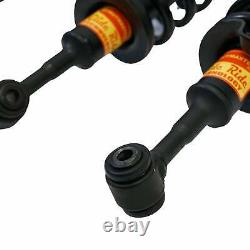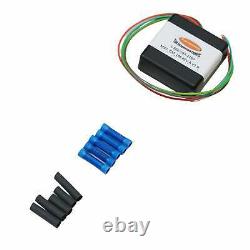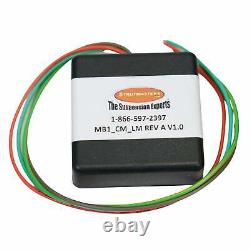 Convert Your Expensive Factory Suspension To A Passive Coil Spring Suspension. End Your Active Hydraulic Suspension Problems Forever..
Designed to be very affordable, you can convert your ENTIRE electronically-controlled hydraulic suspension to use passive struts and coil springs for less than the price of replacing ONE Original Equipment strut at the dealer. No Modifications Required To Install. More Reliable Than Original Equipment Hydraulic Suspensions. Suspension Warning Light Elimination Module.
Active Hydraulic Suspension Conversion System Includes. 2 Completely Assembled FRONT Struts.
2 Completely Assembled REAR Struts. Features Premium American-Made Coil Springs. Module To Shut Off Suspension Warning Light.
2002 Mercedes Benz SL500, 2003 Mercedes Benz SL500, 2004 Mercedes Benz SL500, 2005 Mercedes SL500, 2006 Mercedes Benz SL500, 2007 Mercedes Benz SL500, 2008 Mercedes Benz SL 500, 2009 Mercedes Benz SL500, 2010 Mercedes Benz SL500, 2011 Mercedes Benz SL500, 2012 Mercedes Benz SL500. This Kit INCLUDES The Light Fix Module. A long tube (similar to a shock absorber) that fills with hydraulic fluid forced in at varying rates of pressure determined by sensors on the vehicle.
The strut is the resting place for a steel coil spring, which works to help support the weight of the vehicle. The struts are known as "active" because they can be adjusted hundreds of times a minute electronically.
Much like a shock absorber, the strut dampens vibration and bouncing caused by travel on rough road surfaces. The ride height sensor is a moving part, and like all moving parts, they will eventually wear out. On many models, the pump may have a second reservoir that works to deliver power steering to the vehicle. The pump can fail due to normal wear and tear OR it can burn up due to low fluid level caused by leaks in the suspension system. Be sure to replace the O-rings when repairing any active suspension system.
Early detection of a bad suspension is the key to avoiding total failure. Check for hydraulic fluid leaking from the struts, lines, connection points or the pump itself. If the fluid level gets too low, it can burn out the pump and lead to a wide-spread failure of the system. A sudden loss of power steering and you'll know the pump has most likely failed. A suspension warning light, at times accompanied by a chiming noise, is another sign of trouble.
And because this system is so complicated, replacing just ONE part will seldom solve the problem. Many experience technicians will recommend replacing ALL of the major components of the factory suspension to have a high rate of success. (and that doesn't even include replacing electronic components that are known to fail such as the height sensors). The Strutmasters suspension conversion system allows SL500 owners the ability to bypass all the electronics and eliminate the headaches caused by the factory suspension system once and for all.
Designed and assembled by hand in small batches in the USA, this kit comes complete with one custom-designed suspension light fix module and four completely pre-assembled coilover struts. Customers appreciate our detailed instructions and online installation videos to assist with their repair. If further help is needed, Strutmasters' technicians are available to answer any questions.
2303202813, 2303208813, 230320881380, 2303200013, 2303208713, 230320871380, 2303200513, 230320051380, 2303200213, 230320021380, 2303203013, 2303204413, 230320441380, 2303202913, 2303204513, 230320451380, 2303204613, 230320461380, 2303203213, 2303204713, 230320471380, 2303203113, 2303208613, 2303204438, 230320861380, 2303206113, 2303204338, 230320851380, 2303205813, 3203200438, 2303204638, 230320043880, 2303205513, 2303200338, 2303204538, 230320033880, 2303202438, 2303204038, 230320243880, 2303202338, 2303203938, 2303202638, 2303205213, 2303207213, 2303202538. This item is in the category "eBay Motors\Parts & Accessories\Car & Truck Parts & Accessories\Steering & Suspension\Shocks, Struts & Assemblies". The seller is "strutmasters" and is located in this country: US.
This item can be shipped to United States.
Features: 100% Accuracy of Fit
Manufacturer Warranty: 1 Year
MPN: MX14FM
Min Stock: 0
Product Type: Conversion Kits
SKU: MX14FM
Country/Region of Manufacture: United States
UPC: 665270175379
Manufacturer: Strutmasters
Placement on Vehicle: Front, Rear
Max Stock: 10
Manufacturer Part Number: MX14FM
Brand: Strutmasters
Type: Strut & Spring Assembly
Items Included: Bolts, Mounting Hardware, Strut