57 Fits Chevy Power Steering Conversion Kit withChrome Tilt/Shift Column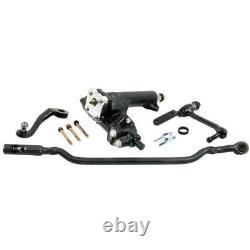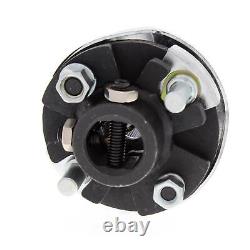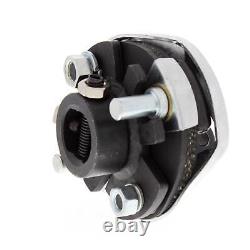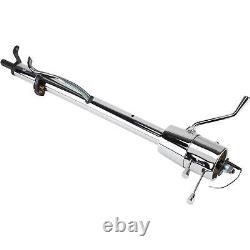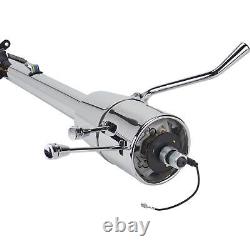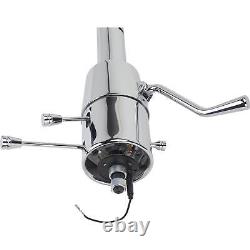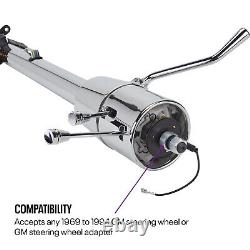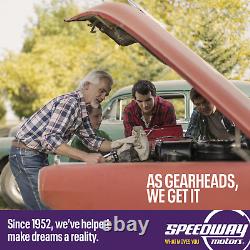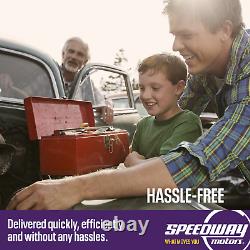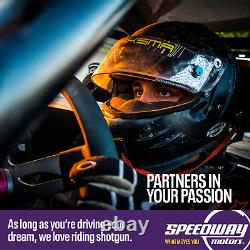 Included in this kit is a new 500 series power steering box, new centerlink, new Pitman and idler arm, Upgrade from manual to power steering, 2-inch column with 5 position tilt provides easy entry/exit and custom driving position, Built-in self-cancelling GM turn signal switch with on-column activated hazard flashers, Rag joint has a splined end with 3/4-30. 57 Chevy Power Steering Conversion Kit w/Chrome Tilt/Shift Column.
Included in this kit isa new 500 series power steering box, new centerlink, new pitman and idler arm. Modification of the original steering column is required.
Use(1955-56) or(1957) to convert the stock column for use with this kit. This is a straight bolt-on conversion when using our Ididit columns. The top splines on the steering box are 3/4-30. These rage joints make it easier to put a column in your'55-'57 Chevy car when using an aftermarket steering box.
2-inch OD column housing, works with factory upper mount. Overall length from end of bell to tip of steering shaft is 33.5-inches.
Five position tilt mechanism with 30 degrees of total adjustment. Integrated GM style self-canceling turn signal switch with 4-way hazards. Retains factory in-dash gear selector indicator. GM style 10-pin 3-7/8-inch wiring plug connects directly with optional adapter.
Aftermarket true 1-inch DD output shaft uses commonly available aftermarket U-joints or rag joints. Connects to factory steering box with minor modification. Works with factory gear position indicator in dash. Accepts any 1969 to 1994 GM steering wheel or GM steering wheel adapter. Rich chrome plated housing compliments anyinterior.
Includes chrome plated turn signal lever, tilt lever, shift lever, and hazard knob. Enjoy the Drive Once Again. In the 1950s a tilt steering wheel was a scarce reality saved for luxury cars and exotics. If you did not fit well between the steering wheel and the seat tough cookies!
It does not have to be that way today for your'57 Chevy. Get behind the wheel and drive again in comfort with a Speedway Motors'57 Chevy Tilt Steering Column.
A Premium Tilt Column with All the Features You Want. Old tilt columns are just that-old! Do not waste your time in a salvage yard digging around for a steering column for your project that will undoubtably need a complete rebuild.
Not to mention it most likely will be too long or too short for your application. Using one of our'57 Chevy tilt steering columns is the way to go. This is not just any old aftermarket steering column either. Manufactured with all new parts in a compact design, the small 2-inch diameter steering column tube and compact tilt head that is just 7-inches in length provides copious amounts of leg room while fitting nicely within the dash.
The five-position tilt head allows 30 degrees of tilt, 20 degrees up and 10 degrees down from straight. This tilt function not only provides the perfect angle for personal driving comfort but can facilitate easier ingress/egress with a simple flick of the tilt lever.
We use a 1-inch double-D (DD) steering shaft for connecting to your stock steering box. Ais required when retaining the stock steering box and the steering box input shaft requires cutting and modification to a ¾-inch DD configuration. For aftermarket steering boxes or rack-and-pinion conversions we offer a multitude ofto facilitate connecting your new column.
We also offer this column in a. Direct Replacement for Your'57 Fixed Column. If you prefer, we offer our column in aas well. The 2-inch OD column tube allows it to be easily secured to your dash using the original upper mount.
We recommend one of the lower mounts listed below to aid in your installation. Our steering wheel adapterwill help you find the proper fit. Our'57 Tilt Steering Column uses GM steering column wiring connectors. The standard 3-7/8-inch turn signal switch connector even uses stock GM wire color codes.
This makes our column a direct plug-and-play electrical connection to any vehicle that has been upgraded with an. For'57 Chevy vehicles with factory wiring, you can easily adapt your turn signal wiring by installing the year specific jumper harness listed below, which will also give your Chevy easily accessed column activated hazard lights. Included with our'57 Chevy column shift application are straight and offset shift arms that will connect and work with most 3- and 4-speed automatics. We even include a factory-style neutral safety/backup light switch at the base of the column! For newer 3- and 4-speed transmissions we offer, both universal and direct fit in-dash options, for your car.
If the original fixed steering column is preventing you from enjoying your'57 Chevy, then upgrade to our'57 Chevy Tilt Steering Column today and drive your vehicle in comfort. Your knees will thank you for it! (1)CPP 5557PSU-K 1955-57 Chevy Power Steering Conversion Kit. (1)Steering Rag Joint, 3/4 Inch-30 Spline x 1 Inch DD.
(1)1957 Chevy Passenger Car Tilt/Shift Steering Column, Chrome. Brown-power feed from hazard flasher.
Purple-power feed from turn flasher. White-Power feed from brake light switch. Additional Notes for Column Shift Applications. Tilt steering columns will move the steering wheel back 2 inches towards the driver. Shifter linkage at end of the column can be clocked in multiple locations to clear exhaust or frame obstructions. Easiest way to link the steering column shift linkage to your transmission is with a.
Main column ground is attached to the column tube and needs to be secured to chassis ground. The black wire in the ribbon harness is the ground for the horn relay. A replacement assembly is available for this column. Speedway Motors is America's Oldest Speed Shop® and has been a trusted source for specialty rodding and racing products and friendly expert advice for more than 71 years.