COMPLETE AUTOGAS CONVERSION KIT STAG 200 GO FAST 110kWith150HP, TANK & ALL FITTINGS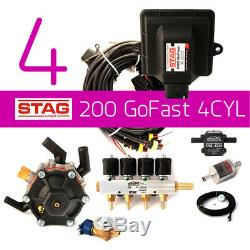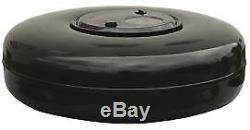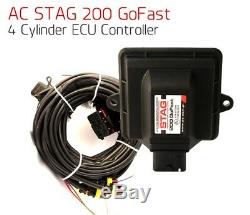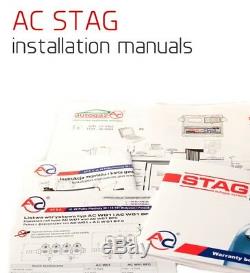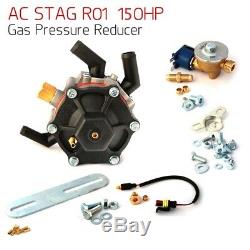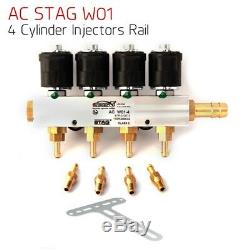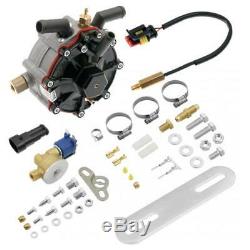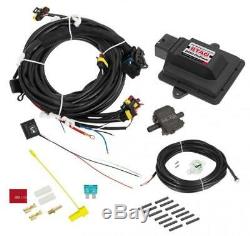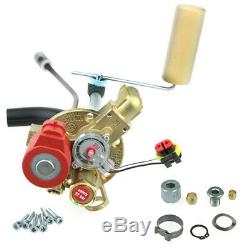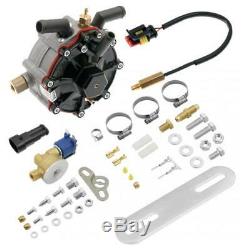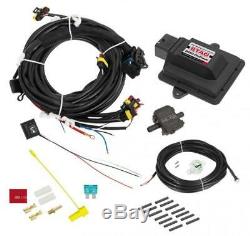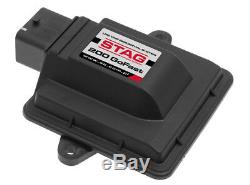 STAG 200 GO FAST 110kW/150HP, TANK & ALL FITTINGS. ECU STAG 200 GoFast with wiring loom Reducer AC150 up to 110 kW/150 HP with Solenoid Valve 6mm Injectors ACW R01 4 Cyl. 12mm -12mm Filter Map/vacuum sensor Buzzer Temperature sensor Tank level gauge Cable ties Tank Toroidal max 45L (630x200 45L) Multivalve BRC 200/30 FLEXI PIPE 6mm - 6m FLEXI PIPE 8mm - 2m (FOR FILLER) STRAIGHT OR ANGLE FILLER WITH RECESSED BOX. (FOR EUROPE PLEASE ASK FOR ADAPTERS SEPARATELY) FLEXI PIPE CONNECTIONS Hose water pipe 16mm - 2m Hose gas pipe 12mm - 1m Hose gas injector pipe 5mm - 2m Hose pressure vacuum pipe 4mm - 2m T-pipes 19-16-19 - 2 pcs.
T-pipes 16-16-16 - 2 pcs. Norma clips 16-27 - 6 pcs. Norma clips 12-22 - 10 pcs. Pipe clips ("P" clips 6mm-8mm) - 10 pcs.
Self Tapping Screw - 12 pcs. WE CAN ALSO FIT THE SYSTEM FOR YOU IN OUR LONDON CONVERSION CENTER. GoFast is a versatile controller designed for installation in most cars (sequential, semi-sequential, full group).
The device has been designed as simple as possible the entire system, and a significant shortening of the time needed for installation and calibration of the system. Created controller is based on a 32-bit processor and components of automotive, which proves its modern design and reliability. GoFast benefits fast installation due to the minimal number of wires, Simple and clear calibration program - only two dialog window, processor has the ability to expand with new software features, application sessions without the controller in use demo mode, small - compact weather - resistant housing, a switch with an integrated buzzer only 3 wires are required for connection. Simple installation The controller is an extremely installer-friendly device the minimize number of wires, required to connect the controller and contributes to reduced installation time. No connection cable to the reading of rotation, the controller calculates them based on the time of injection in most case it is not necessary to connect the ignition signal a switch with an integrated buzzer only 3 wires are required for connection gas level indicator CES (H) is powered directly from the solenoid valve mounted on the cylinder.
Simple calibration: all functions are arranged on two panels and no tab switching is required, build-in standard and expert function. Mode of standard contains the minimum functions necessary that to set up the car. However, at any moment by pressing the switch to expert where the advanced more functions of the controller, if the PC communication cable has been disconnected, the controller attempts to restore transmission itself, support of controller too with Bluetooth Next. Functionality: new hardware platform based on a 32-bit processor, fail-safety use the components of automotive, optional extension with new application features, application sessions without the controller in use demo mode. Application functions: preview of working parameters on the oscilloscope, petrol injection time map 2D, the fuel LPG / CNG, engine RPM signal filter, operation with various types of injection control (standard, doubling), setting of maximum load on the gas engine, engine type, standard or turbocharged, intelligent post-injection integrated corrections for temperature and pressure of gas, mazda Leaning , gas injectors heating, map of correction based on gas temperature, reducer pressure reduction upon cut-off (discharge), setting of the allowed number of emergency starts, Sound alarm for emergency start Hot start (start&stop), automatic setting of gas level, Leaning on cold engine option limiting the maximum injection time on a cold engine (VAG), detection of gas pressure sensor fault, auto-calibration all injectors together option, automatic adjustment of the multiplier, suitable maintenance of secondary injection - this feature eliminates the needs of function "Mazda leaning", reading of rpm based on petrol injection pulsing, detection of missing or overloaded solenoid valve, test of actuating devices: injectors, solenoid, buzzer, option for changing injection sequence, injectors of correction flow, change of time is the opening-closing of injectors, ignition key connected to petrol injectors, information about car and gas installation, reminder about periodical inspection of gas installation.
ASK US FOR FURTHER DETAILS! For more information please do not hesitate to.
And we will be most happy to help you. The item "COMPLETE AUTOGAS CONVERSION KIT STAG 200 GO FAST 110kWith150HP, TANK & ALL FITTINGS" is in sale since Tuesday, November 7, 2017. This item is in the category "Vehicle Parts & Accessories\Car Parts\Air Intake & Fuel Delivery\Fuel Pumps". The seller is "imsonline" and is located in London. This item can be shipped worldwide.
Fuel Pump Type: Electrical
Brand: STAG 200 GO
Manufacturer Part Number: STAG200GOFAST