E-Bike Fat Tire Bicycle Rear Wheel Hub Motor Conversion Kit Fit 26 48V 1500W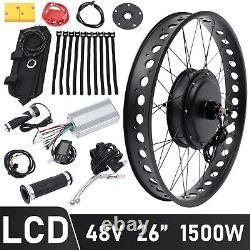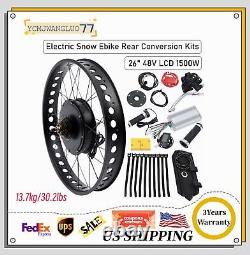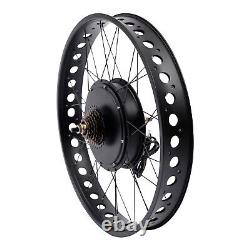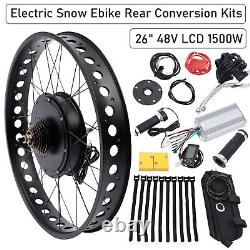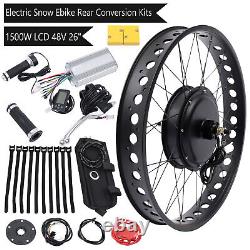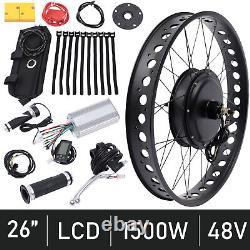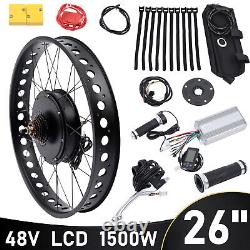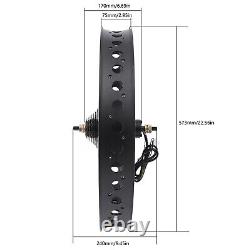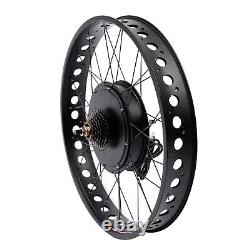 E-Bike Fat Tire Bicycle Rear Wheel Hub Motor Conversion Kit Fit 26 48V 1500W. 26 1500W Electric Bike Fat Tire Snow Mountain Bicycle Rear Wheel Hub Motor 48V. Electric Snow bike Conversion Kits 48V 1500W Tire Rear Rotate Hub Motor Wheel with LCD Display.
This electric snow bike conversion kit is made of high-quality aluminum, iron, copper, and magnet steel, which is strong, durable, and not easy to deform. This product can convert ordinary bicycles into electric bicycles, so that you can feel the speed of the wind and climb hills without difficulty, giving you a good riding experience. Good Materials: This product is made of high-quality aluminum, iron, copper, and magnet steel, which is strong, durable, and not easy to deform. Good materials can extend its service life. Fast Speed: The speed of the motor wheel can be up to 55km/h (180446ft/h), which is very fast and can give you a good riding experience.
LCD Function: The LCD meter has the function of fault display, speed display, mileage display, voltage display, five-speed booster speed control, and fixed speed cruise. It is very convenient for you to use. Motor produces low noise when used, which can create a quiet environment for you. Versatile Features: This product has five adjustable gears and also has a fixed speed cruise function.
It can bring you an unprecedented riding experience. Labor-saving: With it, you can get rid of snow bikes with foot pedals. You only need to gently rotate the handlebar to control the speed flexibly, which is very labor-saving and convenient.
Easy to Install: The structure of the product is simple and the accessories are complete. You only need a few simple steps to install it, which is very simple and convenient.
Motor is fast and produces little noise when used. It can make your riding experience better. Pattern on the handle of the turner, which can play a good. You can use it more comfortably and safely. Pedal Assistant Sensor: It senses the rhythm of the pedal and adjusts the speed of the motor accordingly.
This helps on long trips and avoids the wrist pain caused by constant pressure. This can be convenient to store the controller. It is also very good-looking and stylish.
It is suitable for retrofitting the rear wheel of a two-wheeled snow bike. It is suitable for 26-inch snow bikes with 264.0 tires. Material: Aluminum, Iron, Copper, Magnet Steel.
Power Type: Lead-acid or Lithium Battery (Not Included). Motor Net Weight: 7kg/15.43lbs. Motor Net Weight (with Variable Speed Gear and Disc Brake Rotor Type):7-7.5kg/15.43-16.53lbs. Motor Diameter: 24.3cm/9.56inch. Motor Shaft Length: 24cm/9.44inch. Motor Cable Length: 100cm/39.37inch. Body Size of Magnet: 13.65335mm/5.371.1813.77inch. Flat Fork Width Requirement: Min. Brake: Disc Brake Rotor Type Can be Installed 6 Screws. Corresponding Controller: 48V 1500w Controller. Available Aluminum Wheel Size: Suitable for 26-inch Snow Bike 264.0 Tires. Instrument Function: Fault Display, Speed Display, Mileage Display, Voltage Display, Five-speed Power Steering, Fixed-speed Cruise Control. Motor Wheel Speed: Max 55km/h (180446ft/h) (Speed is Related to Wheel Size, Road Condition, Battery Condition, Guest Load, Wind Speed, and Other Factors). Net Weight: 11.5kg/25.3lbs. Gross Weight: 13.7kg/30.2lbs. Wheel Diameter: 57.3cm/22.56inch. 1 Set Pedal Assistant Sensors. The rear wheel of a two-wheeled snow bike.
It cannot be used for three-wheelers or multi-wheelers. Please prepare 4 lead-acid batteries or a lithium battery of corresponding voltage in advance. Please make sure a solid connection between the motor and the controller.
Please make sure that the inner core of each plug is not damaged, broken, or bent. If your kit has been in use for a while and then suddenly stops working. It could be that your motor plug is soaked in water.
Please unplug it and let it dry. Then put it back in place and it will work fine. You need to connect the machine correctly and firmly during installation so that the product can work properly. If there is a mistake during the installation process, the product will not work properly.
After the installation is completed, you can check whether the error code is displayed on the LCD screen. Please read the manual completely before installation and use, and pay particular attention to the safety instructions included.
Please allow the slight color difference caused by the shooting light and 1-3cm error due to manual measurement, and make sure you do not mind before ordering. Feedback is very important to us. It is impossible to address issues if we do not know about them!
Faction is our ultimate goal. We work hard to earn your trust and future business. A If you receive a defective item, you may return it or ask for a discount. Due to time zones, our reply to your questions may not be immediately. If it's non-workdays, please kindly be patient and wait till Monday.