LED Conversion Headlight Kit fits Case IH MX200 MX210 MX230 fits McCormick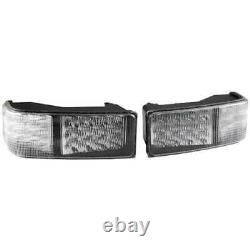 All of our new parts are aftermarket replacements. Compatible with Case IH Tractor(s) CX70, CX80, CX90, CX100, Farmall 85C, Farmall 85U, Farmall 95C, Farmall 95U, Farmall 105U, JX70U, JX80U, JX90U, JX100U, JX1060C, JX1070C, JX1070U, JX1075C, JX1080U, JX1085C, JX1090U, JX1095C, JX1100U, MX180, MX200, MX210, MX220, MX230, MX240, MX255, MX270, MX285, MXM120, MXM130, MXM140, MXM155, MXM175, MXM190, MXU100, MXU110, MXU115, MXU125, MXU130, MXU135, Steiger 280, Steiger 330, Steiger 335, Steiger 350, Steiger 380, Steiger 385, Steiger 430, Steiger 435, Steiger 480, Steiger 485, Steiger 530, Steiger 535, STX275, STX280, STX325, STX330, STX375, STX380, STX425, STX430, STX440, STX450, STX480, STX500, STX530. Compatible with Case IH Sprayer(s) Patriot 3320, Patriot 4420, SPX4260, SPX4410, Titan 3520, Titan 3540, Titan 4020, Titan 4030, Titan 4520, Titan 4530.
Replaces Case IH OEM nos 232449A2, 232448A2, 87429390, 87429389, 232451A2, 365842A1, 232450A2, 365841A1. Compatible with McCormick Tractor(s) CX70, CX75, CX80, CX85, CX90, CX95, CX100, CX105, CX110, MC95, MC105, MC115, MC120, MC130, MTX120, MTX135, MTX150, MTX165, MTX185, MTX200, XTX185, XTX200, XTX215.
Replaces McCormick OEM nos 5091965, 5091966, 5091967, 5091968. Convert your existing lights to LED lights for improved performance and safety.
Kit Includes: (1) Left Headlight, (1) Right Headlight. Lights are Plug & Play. All States Ag Parts Item No. This item is in the category "Business & Industrial\Heavy Equipment, Parts & Attachments\Heavy Equipment Parts & Accessories\Lights, Reflectors & Accessories".
The seller is "tractorpartsasap" and is located in this country: US. This item can be shipped to United States.
Replaces Case IH OEM #: 232449A2, 232448A2, 87429389, 87429390, 232451A2, 365842A1, 232450A2, 365841A1
Replaces McCormick OEM #: 5091965, 5091966, 5091967, 5091968
Compatible Equipment Type: Case IH Tractor, Case IH Sprayer, McCormick Tractor
Compatible Equipment Make: Case IH, McCormick
Compatible Model: Case IH MX230, Case IH MX210, Case IH MX200, Case IH MX255, Case IH MX220, Case IH MX180, Case IH MX285, Case IH MX240, Case IH CX90, Case IH CX100, Case IH MX270, Case IH CX80, Case IH CX70, Case IH MXM140, Case IH MXM120, Case IH MXM130, Case IH MXM155, Case IH MXU110, Case IH MXU100, Case IH MXU115, Case IH MXM190, Case IH MXM175, Case IH MXU125, Case IH STX275, Case IH MXU135
Additional Compatible Models: Case IH STX325, Case IH STX375, Case IH MXU130, Case IH STX450, Case IH STX425, Case IH STX500, Case IH STX380, Case IH JX90U, Case IH STX430, Case IH JX80U, Case IH STX330, Case IH STX480, Case IH STX530, Case IH STX280, Case IH JX1080U, Case IH JX100U, Case IH JX1090U, Case IH JX70U, Case IH Steiger 535, Case IH STX440, Case IH JX1100U, Case IH Steiger 435, Case IH Steiger 380, Case IH Steiger 330, Case IH Steiger 385
Part Type: Lighting
Brand: Aftermarket part for Case IH
MPN: 232449A2